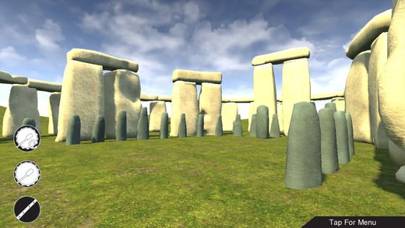 Digital acoustic models were used to reimagine what it would be like to walk around Stonehenge and listen to the sounds of music and wildlife in 3,000BC
The secrets of Stonehenge may have just been uncovered – by a music technologist.
Rupert Till
from the University of Huddersfield has released an
app
that recreates the soundscape of the ancient temple as it would have originally been heard thousands of years ago, complete with the sounds of the Wilsford bone flute unearthed in a pit near the site, and the songs of owls, nightingales and corncrakes common to the region in Wiltshire. Till is one of a growing group of researchers which believes one of the core reasons for Stonehenge's existence was its acoustic properties.
The ancient site, erected almost 5,000 years ago in the late Neolithic period, has remained a compelling mystery. In the 1920s, it was discovered that some of the nine-metre-tall, 25-tonne bluestones that make up the site were hauled almost 200 miles from the Preseli Hills in western Wales. The seemingly impossible logistics of how this occurred has confounded archaeologists, but a group of "archaeoacoustics" have instead been investigating the reason
why
the stones were moved this great distance. [...]
WIRED UK
/
Link 2
Video:
Virtual tour reveals lost sounds of Stonehenge - Reuters
Ver en
PaleoVídeos
> L.R.2.12 nº 31.
Actualización
:
Los sonidos de Stonehenge: una aplicación interactiva revela detalles sobre su historia

- RT
Este monumento ubicado en Reino Unido podría haberse utilizado como sala de conciertos.
El origen del monumento Stonehenge es un misterio 4.500 años después de su creación, pero unos investigadores británicos podrían haber encontrado una manera de develarlo, informa 'Daily Mail'.
Esos especialistas de la Universidad de Huddersfield (Reino Unido) liderados por Rupert Till han realizado un estudio que concluye que la forma en que colocaron las piedras tenía un motivo acústico, una teoría que rompe con las hipótesis previas sobre un templo construido en función de los movimientos del Sol.
Aplicación interactiva
Para que las personas puedan viajar a través de la historia, estos científicos realizaron una reconstrucción digital de Stonehenge en diferentes épocas, que ofrecerán mediante una aplicación interactiva para dispositivos móviles de Apple.
Al culminar su proyecto, ese equipo descubrió que los monolitos estaban ubicados para ofrecer efectos visuales y acústicos: "Si construyes algo que es circular, tiene una acústica circular", con lo cual "la acústica y el sonido son fruto de la forma en que está diseñado", detalla Till.
Cambio de paradigma
El responsable de esta iniciativa consiguió permiso para realizar diferentes pruebas en el monumento, como aplaudir: "Cuando chocas las manos, el sonido deja las palmas, se aleja, golpea las piedras del círculo y regresa".
Para confirmar los hechos, el equipo investigador utilizó réplicas de instrumentos de la época en que Stonehenge fue construido y, con esa base, desarrollaron su modelo digital con un paisaje sonoro interactivo y características acústicas similares a las de una sala de conciertos.
Tras lamentar que "quizás la mitad de las piedras se perdieron", Rupert Till destacó que hoy en día aún "se pueden escuchar ecos", una reverberación "como en un gran cuarto de baño"... (
Vídeo*
)
*Vídeo
:
2016. Stonehenge: Interactive Soundgate Demo - Rupert Till
Vídeo añadido a
PaleoVídeos
> L.R.2.11 nº 49.