Lluís Pericot: Un prehistoriador entre dos épocas

: Amazon.es
Tapa blanda: 637 páginas
Editor: Urgoiti Editores; Edición: 1 (6 de noviembre de 2017)
Colección: Monografías
Índice
La figura de Lluís Pericot (1899-1978) llena más de medio siglo de nuestra prehistoria y nuestra ciencia, desde que comenzara su andadura en los años 20 hasta las vísperas de su fallecimiento, entrada ya la Transición. Décadas de trabajo que transitan por dos épocas, dos mundos, tanto en lo que atañe al avance científico de su profesión como al momento histórico que en España separó trágicamente la guerra civil...
Origines de l'Homme, origines d'un homme - amazon.fr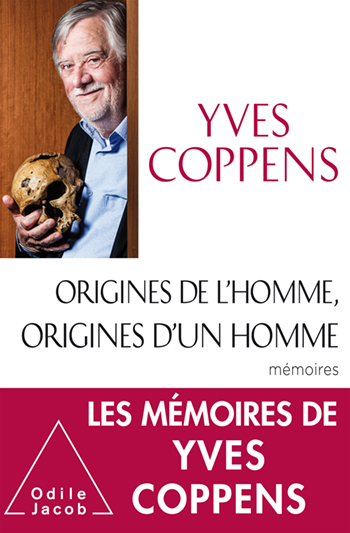 Yves Coppens (Auteur)
Broché: 464 pages
Editeur : Odile Jacob (17 janvier 2018)
Collection : OJ.PREHIST.ARCH
« Quatre-vingts ans de souvenirs, de rencontres, de voyages, d'initiatives, de résultats, de succès, de joies, de plein de petits plaisirs et de tout petits malheurs, de grands éblouissements.
La paléoanthropologie et l'archéologie ont le devoir scientifique et philosophique de reconstituer l'histoire de l'homme ; elles ont démontré que nos racines étaient animales, prouvé notre cousinage avec les grands singes, déclaré notre origine unique, tropicale et africaine, montré la logique de notre déploiement progressif à travers le monde, et expliqué comment conscience et connaissance ont peu à peu donné à ce drôle de petit mammifère que nous sommes des traits comportementaux que l'on n'avait pas encore vus poindre le long des 4 milliards d'années d'histoire de la vie et qui sont le libre arbitre et la liberté, la responsabilité et la dignité. » Y. C...
CRITIQUE DE LIVRE
.
Récit de découvertes exceptionnelles et d'une vie riche, le paléoanthropologue Yves Coppens livre ses mémoires
... /
Link 2
Blick Mead: Exploring the 'first place' in the Stonehenge landscape - Amazon.com
Archaeological excavations at Blick Mead, Amesbury, Wiltshire 2005–2016
Series: Studies in the British Mesolithic and Neolithic
David Jacques, Tom Phillips and Tom Lyons
Edited by David Jacques
The Stonehenge landscape is one of the most famous prehistoric places in the world, but much about its origins remains a mystery and little attention has been paid to what preceded, and thus may have influenced, its later ritual character. Now, the discovery of a uniquely long-lived Mesolithic occupation site at Blick Mead, just 2km from Stonehenge, with a detailed radio carbon date sequence ranging from the 8th to the late 5th millennium BC, is set to transform this situation....