Audio
.
Juan Luis Arsuaga: "Lo que Darwin descubrió es que somos monos, y nunca hemos dejado de serlo"

- ONDACERO RADIO
/
Link 2
El paleontólogo, Juan Luis Arsuaga, estrena sección en Julia en la Onda, en la que cada semana nos ilustrará con su conocimiento sobre la vida y el ser humano. En esta ocasión, y coincidiendo con el día de Darwin, Arsuaga nos habla del origen y la evolución del hombre....
Audio
.
El descubrimiento de Altamira

| La Mecanica del caracol | EiTB
Egoitz Etxebeste
recoge en la Revista Elhuyar la historia del
descubrimiento de las pinturas rupestres de Altamira
(Santander).
Marcelino Sanz de Sautuola y su hija María
fueron los primeros en ver las pinturas de bisontes darían fama a este lugar. El estudioso santanderino fue el primero que publicó un estudio sobre el hallazgo que señalaba como autores a artistas del Paleolítico. Esta afirmación fue rebatida durante años y ya tras su muerte se reconoció el acierto de sus planteamientos... (A partir de min 30:30)
El CENIEH forma parte de un proyecto hispano-eritreo que estudia yacimientos del Valle del Rift

| CENIEH
La geocronóloga del CENIEH Davinia Moreno realiza los trabajos de datación en la última campaña de excavación y prospección del proyecto "Cuna de la humanidad: Eritrea-Valle del Rift", financiado por la Fundación Palarq y gestionado por la Fundación Atapuerca
Davinia Moreno, geocronóloga del Centro Nacional de Investigación sobre la Evolución Humana (CENIEH), ha participado en la nueva campaña geológica, paleontológica y arqueológica llevada a cabo, del 10 de enero al 3 de febrero, en la cuenca de Engel Ela-Ramud, en el extremo septentrional del Valle del Rift (Eritrea), en una serie estratigráfica muy completa que podría abarcar los últimos seis millones de años, e incluye los yacimientos de Ado Quauleh, Bolali, Sasaktoli, Gameré, Erau y Abugadi...
Más sobre
"Los neandertales podrían haber tenido reglas estrictas en natalidad"

. Noticias de Gipuzkoa
Con el objetivo de dar a conocer los pasajes más desconocidos de la historia del territorio, Koldo Mitxelena y la Asociación de Historiadores Guipuzcoanos organizan cada mes una conferencia con un experto diferente. El
mes pasado
, Joseba Ríos analizó las últimas investigaciones realizadas en los yacimientos neandertales de la región cantábrica...
Más sobre
Un enorme recinto ceremonial del Neolítico sale a la luz cerca de Londres
Un enorme y misterioso recinto ceremonial del Neolítico, de unos 5.500 años de antigüedad, ha sido parcialmente desvelado en Riding Court Farm, entre el célebre Castillo de Windsor y el Aeropuerto de Heathrow, al oeste de Londres, según anunció el viernes pasado la empresa Wessex Archaeology...
Pileta de Prehistoria:

Estudiados los cráneos de 8.000 años encontrados en Suecia
Pileta de Prehistoria:

Arte rupestre de grabados de hace 10.000 años demuestra que Arabia Saudita era un fértil refugio de animales
---
Pileta de Prehistoria:

Cinco rochas com arte rupestre descobertas no Guadiana
Pileta de Prehistoria:

Human Skulls Mounted on Stakes Found at 8,000-Year-Old Burial Site in Sweden
Pileta de Prehistoria:

Ancient Rock Art Reveals Arabia Was Once Home To Some Unexpected Animals
Mammoth prints found by UO group suggest a family trek

| Around the O
/
Link 2
(Paper)
An old path marked by numerous fossilized tracks in south central Oregon's Lake County may reveal clues about the family dynamics of ancient Columbian mammoths.
The trail, an Ice Age trackway, was discovered by the UO's Greg Retallack, a paleontologist with the Museum of Natural and Cultural History, while on an exploratory field trip in 2014 with six UO students in a class about fossil plants.
Unsure of exactly what the site might hold, Retallack, along with UO science librarian Dean Walton, returned to the location last year with researchers from the museum, the Bureau of Land Management and University of Louisiana to excavate the trackway.The team identified 117 impressions, dated to about 43,000 years ago, that are thought to represent footprints of adult, juvenile and infant mammoths in a layer of volcanic soil at Fossil Lake... (
Vídeo
*)
*
Vídeo
.
Tracks of Mammoth
- UOregon. Ver en
PaleoVídeos
> L.R.2.15 nº 25.
What ancient footprints can tell us about what it was like to be a child in prehistoric times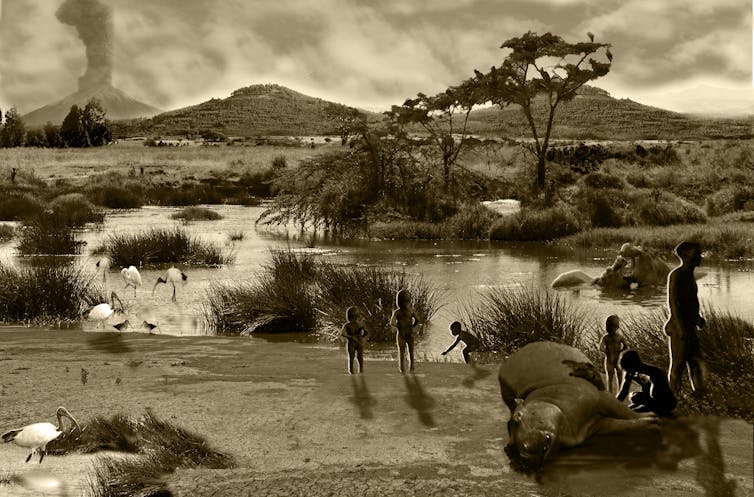 2/3. Artistic impression of scene at Melka Kunture. Matthew Bennett, Author provided

... In our new paper,
published in Scientific Reports
, we outline the discovery of children's footprints in Ethiopia which show how children spent their time 700,000 years ago...
... But the footprints described in our recent study – from a remarkable site in the Upper Awash Valley of Southern Ethiopia that was excavated by researchers from the Università di Roma "La Sapienza" – reveal a bit more. The children's tracks were probably made by the extinct species
Homo heidelbergensis
(600,000 to 200,000 years ago), occurring next to adult prints and an abundance of animal tracks congregated around a small, muddy pool. Stone tools and the butchered remains of a hippo were also found at the site, called Melka Kunture...
Más sobre
Bizarre 'Spider Stones' Found at Site of Neolithic Sun-Worshipers
1/19. Two of the 5,000-year-old "spider stones" unearthed on the Danish island on Bornholm. Credit: Bornholm Museum
Strangely marked stones and other artifacts unearthed on the island of Bornholm in Denmark have raised new mysteries about a Neolithic sun-worshipping religion centered there about 5,000 years ago.
The new finds include "spider stones," inscribed with pattern like a spider's web, and a piece of copper from a time when the metal could not be made by the island's Stone Age inhabitants, say the researchers...
Más noticias
/More news