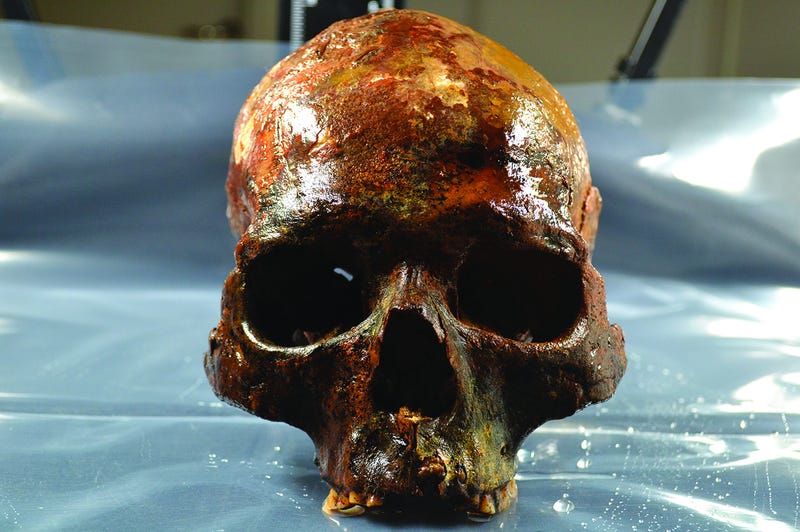 1/3. Uno de los cráneos encontrados en Kanaljorden, Suecia. Imagen: S. Gummesson et al., 2018
El hallazgo fue muy difícil: durante la Edad de Piedra, la tumba se habría asentado en el fondo de un pequeño lago, lo que significa que los cráneos estaban colocados bajo el agua. Además, de los restos de al menos 11 adultos, sólo uno tenía una mandíbula, según los investigadores.
El entierro sí contenía otras mandíbulas, aunque ninguna de ellas, a excepción de la de un bebé, era humana. Mientras excavaban el sitio, los arqueólogos encontraron varios huesos de animales. "Aquí tenemos un ejemplo de un ritual muy complejo", dijo Hallgren, uno de los arqueólogos. "Aunque no podemos descifrar el significado del ritual, aún podemos apreciar la complejidad del mismo, de estos cazadores-recolectores prehistóricos".
Golpes traumáticos
Este antiguo cementerio antiguo contenía 11 adultos (en su mayoría cráneos y algunos huesos) y casi todo el esqueleto de un bebé, que probablemente nació muerto o murió poco después del nacimiento. Era difícil identificar el sexo de algunos, pero al menos tres de los adultos eran mujeres y seis o siete eran hombres, dijeron los investigadores. [...]
Historias de nuestra Historia
/
Link 2
Human Skulls Mounted on Stakes Found at 8,000-Year-Old Burial Site in Sweden
/
Link 2
/
Link 3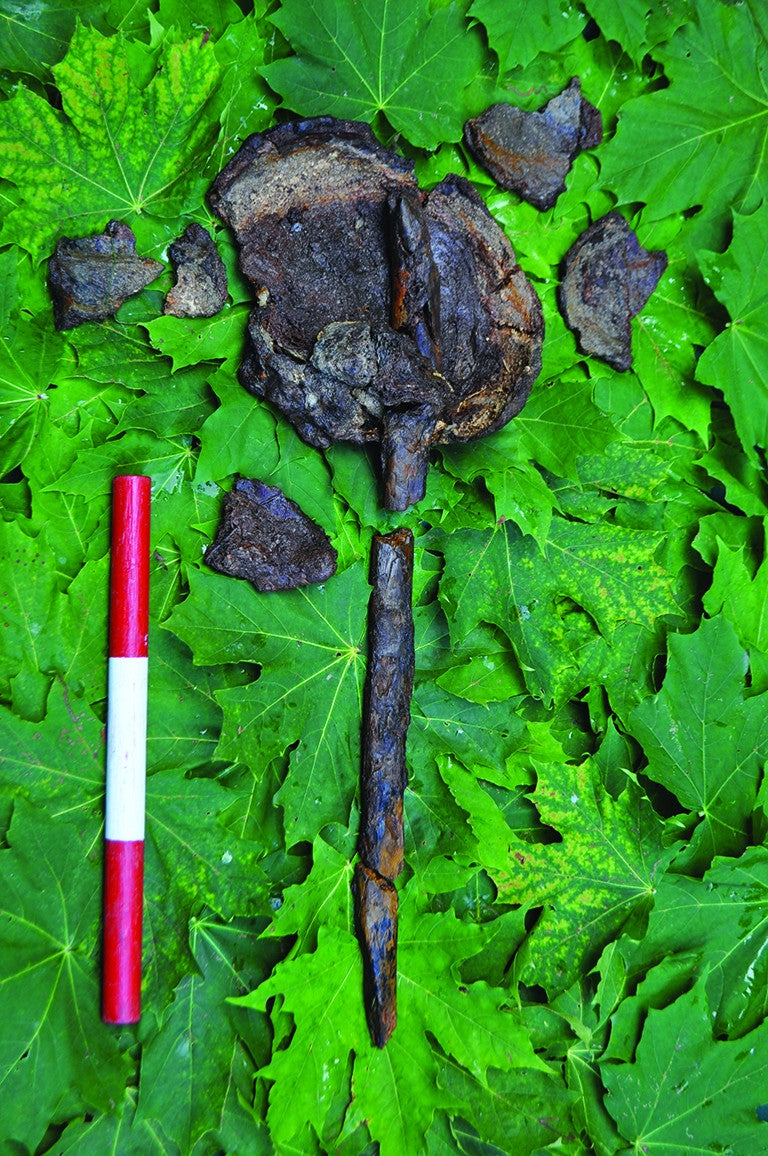 4/5. A piece of skull with a wooden spike. (Image: S. Gummesson et al., 2018)
Researchers in Sweden have uncovered evidence of a behavior never seen before in ancient hunter-gatherers: the mounting of decapitated heads onto stakes. The grim discovery challenges our understanding of European Mesolithic culture and how these early humans handled their dead.
Displaying decapitated heads on wooden stakes is something you might expect from the Middle Ages, but as a
new paper
published in the
journal Antiquity
shows, it's a practice that goes back much further in time than we thought. And in fact, the discovery is the first evidence of this behavior among Mesolithic hunter-gatherers, who aren't known for dramatic displays of this sort. The researchers who found the skulls are at a loss to explain why these ancient Europeans would have mounted them on posts, but the reason may not be as sinister as it appears...
Entradas relacionadas