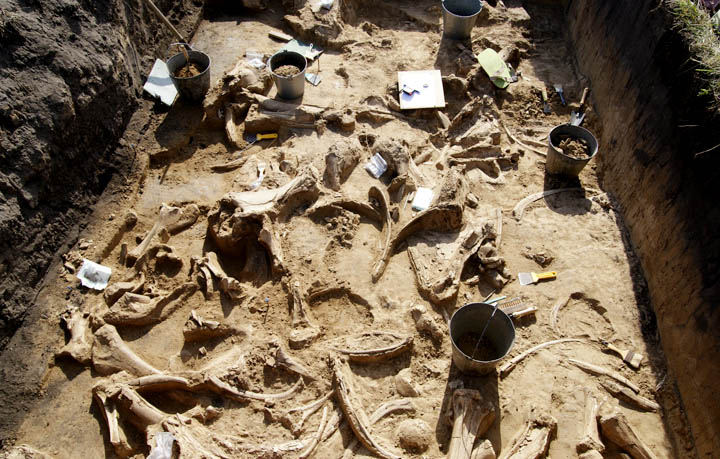 3/13. Volchya Griva is one of the youngest refugia of mammoths in Eurasia. It is already established mammoths were there 11,000-18,000 years ago. Pictures: TSU
Experts say no sign of any human settlements close to 'largest necropolis in Asia for the extinct beasts'.
While a few human implements have been found at Mammoth village, there is a striking lack of man's presence at the probably most recent known large cemetery for the ancient giants, according to a new documentary from Tomsk State University.
The film appears to clear Paleothithic man of having much to do with the demise of the species here, although the creatures were clearly filleted for meat and hide, and their tusks were purloined some 10,000 to 14,000 years ago.
All the implements were not made of local stone, and in fact came from hundreds of kilometres away from the site in Novosibrisk region that may hold the key to why the the mammoths finally died out. They were less weapons than butchers tools, it is believed.
So man did not live close to a place where the ailing mammoths came to die, but visited to raid the enfeebled animals after they tramped here from huge distances.
Paleontologists want to massively extend excavations at the site, known as Volchya Griva at Mamontovoye - or Mammoth - village after a dig in 2015 resulted in the discovery of more than 600 bones and teeth.
Eminent Soviet archeologist Aleksei Okladnikov in 1969 noticed how at the site 'bones were lying at the same level horizontally - and had no marks of any sort of catastrophic influence'.
The short documentary cites a number of leading experts noting the lack of human presence at the site. Academician Dr Vyacheslav Molodin, an archeologist, one of the first researchers at Volchya Griva, said: 'Of course when I went there I was hoping to find some human dwelling. But, unfortunately, we didn't find it.' [...]
siberiantimes.com
Related news
: 06 October 2015.
Scientists of TSU have unearthed the remains of the youngest mammoth
Related post
Actualización
:
Documentan gran "cementerio" de mamuts en Nobosibirsk sin evidencias de poblaciones humanas cercanas
Sí hay evidencias de visitas ocasionales para despiezar animales agonizante...
Actualización
:
Record concentration of woolly mammoth bones in Russia is found in Novosibirsk region
Over thousands of years, the giant beasts came to die in the same place - but the older ones were twice the size of the final mammoth generations.
A summer dig at the Volchya Griva mammoth graveyard has produced a record haul of mammoth bones, but this was not the only surprising discovery. In a pit measuring nine square metres Tomsk State University palaeontologists found remains from at least eight extinct creatures.
In a collection of 785 finds experts also found bones and teeth of bison, horses and - likely but not confirmed yet - foxes or polar foxes as well as rodents.
Sergey Leshchinsky, head of the Mesozoic and Cenozoic Ecosystems Laboratory, said: 'We excavated two bone-carrying levels, which is the typical way they are arranged at the Volchya Griva - and found a lot of interesting bones... (
Video
)