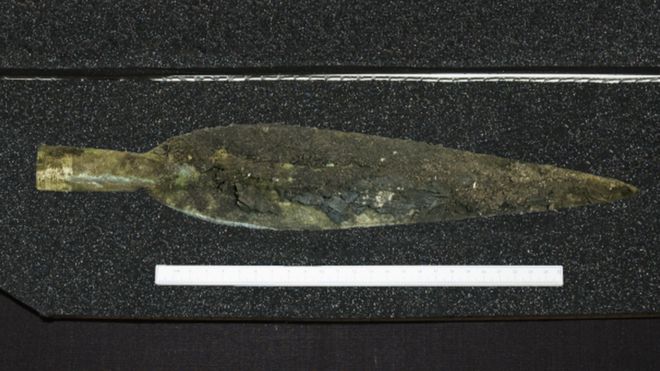 GUARD Archaeology
A gold-decorated Late Bronze Age spearhead and other artefacts uncovered during an Angus excavation have been hailed as "the find of a lifetime".
The weapon was discovered during an archaeological evaluation on land being developed into council football pitches at Balmachie in Carnoustie.
The spearhead was found beside a bronze sword, pin and scabbard fittings.
It is one of only a handful of gold-decorated bronze spearheads ever found in Britain and Ireland.
The discovery was made in a pit close to a Late Bronze Age settlement that was excavated by GUARD Archaeology on behalf of Angus Council.
GUARD Archaeology's project officer Alan Hunter Blair said: "The earliest Celtic myths often highlight the reflectivity and brilliance of heroic weapons.
"Gold decoration was probably added to this bronze spearhead to exalt it both through the material's rarity and its visual impact."
The archaeologists said the rare survival of organic remains - a leather and wooden scabbard, fur skin around the spearhead, and textile around the pin and scabbard - made the find even more significant. [...]
BBC News
/
Link 2
Actualización
:
Encuentran una espada de bronce prehistórica que se ha mantenido intacta durante 3.000 años
/
Link2
Excavation of Carnoustie hoard from soil block
from
Livius Drusus
on
Vimeo
.
Un equipo de arqueólogos ha descubierto una serie de armas enterradas en Escocia que datan de la Edad de Bronce. Entre ellas se encuentran la punta de una lanza y una espada que se mantuvo prácticamente intacta.
El hallazgo se llevó a cabo en un pueblo escocés llamado Carnoustie. Las autoridades regionales solicitaron a un grupo de expertos arqueólogos que inspeccionaran y estudiaran un terreno en el que planeaban construir dos estados de fútbol.
Lo que encontraron es descrito como "un tesoro muy raro y significativo en la historia de los trabajos metalúrgicos".
La espada de bronce que encontraron se mantuvo intacta durante casi 3.000 años. La punta de lanza, que también proviene del mismo período prehistórico (la Edad del Bronce), fue decorada con oro. Además, también encontraron partes de lo que sería la funda de la espada, incluyendo trozos de cuero y madera.
Según los arqueólogos, los celtas decoraban con oro las armas de sus guerreros para darles un aspecto heróico e impactante...