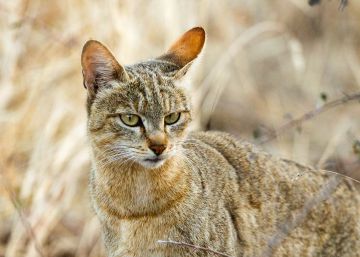 Un estudio genético sugiere una domesticación en Próximo Oriente hace 10.000 años y otra posterior en Egipto
Los investigadores han analizado el ADN de los restos de unos 200 gatos, tomados de momias egipcias, yacimientos vikingos y cuevas de la Edad de Piedra, entre otros lugares variopintos. Los indicios sugieren que todos los mininos domésticos actuales descienden del gato salvaje africano, una subespecie del gato montés euroasiático. "Hemos detectado dos centros de domesticación independientes: uno en Próximo Oriente hace unos 10.000 años y otro posterior en Egipto", explica Arturo Morales, un biólogo de la Universidad Autónoma de Madrid implicado en la investigación. [...]
EL PAÍS
/
Link 2
Ancient DNA reveals role of Near East and Egypt in cat domestication

– KU Leuven News
/
Link 2
DNA found at archaeological sites reveals that the origins of our domestic cat are in the Near East and ancient Egypt. Cats were domesticated by the first farmers some 10,000 years ago. They later spread across Europe and other parts of the world via trade hub Egypt. The DNA analysis also revealed that most of these ancient cats had stripes: spotted cats were uncommon until the Middle Ages...
Vídeo

. Los gatos domésticos descienden del gato salvaje africano - Materia /
Cat domestication: From farms to sofas- nature video
Ver en PaleoVídeos > L.R.2.13 nº 26.