Avance de Arqueomania IV 06
LA CUEVA DE LA PILETA, EL PRÓXIMO SÁBADO JUNTO A LA PREHISTORIA DE MENORCA
Las grandes cuevas del sur peninsular son menos conocidas que sus hermanas del norte, pero no por ello menos interesantes. En Benaoján, Málaga, La Cueva de la Pileta es una de las grandes catedrales de la prehistoria. Manuel Pimentel recorre sus inmensas galerías aprovechando la realización de una investigación científica. El arte y la antropología ocupan su narración.
Vídeo
añadido a
PaleoVídeos
> L.R.3 nº 27.
El Museo Arqueológico Nacional exhibirá 4 años más piezas cedidas por el MARQ
EFE.- El Museo Arqueológico Nacional (MAN) exhibirá durante cuatro años más 33 piezas del Paleolítico superior y del Epipaleolítico procedentes del yacimiento del Tossal de la Roca, en La Vall d'Alcalà (Alicante), y que son cedidas por el Museo Arqueológico Provincial (MARQ).
El Tossal de la Roca está considerado por los expertos como uno de los yacimientos más importantes para el conocimiento del Paleolítico Superior y de las sociedades de cazadores del Holoceno...
Los arqueólogos alertan de la huella del fuego en los petroglifos

- Atlántico Diario
Las consecuencias de los incendios en el arte rupestre se detectarán en dos o tres años
...
Más sobre
Descubren una decena de cavidades en Bedmar que podrían albergar restos paleolíticos
/
Link 2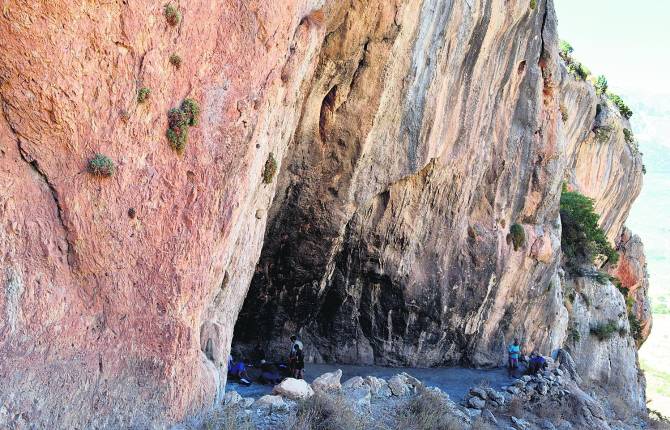 Paraje de la cueva del Portillo, en la zona de la Serrezuela
Investigadores han localizado una decena de nuevas cavidades en el entorno de la Serrezuela y del paraje de Cuadros, en Bedmar (Jaén), que podrían albergar nuevos restos paleolíticos como los hallados en 2017 en la Cueva del Portillo, donde fueron localizados los restos humanos más antiguos de cuantos se han hallado en la provincia de Jaén hasta la fecha...
Tumbas con 4.000 años de edad
En la zona de Ferrol hay un millar de montículos (mámoas) en lugares donde se enterraban personas entre el tercer y el segundo milenio a. C.
...
Arqueólogos encuentran una inscripción china de 4.000 años de antigüedad
/
Link 2
EFE.- Una inscripción de tres o cuatro caracteres chinos de unos 4.000 años de antigüedad, ocho siglos más antigua que lo que generalmente se consideran los primeros vestigios de escritura china, ha sido encontrada en la región septentrional de Mongolia Interior, informa la agencia oficial Xinhua.
Los caracteres se han hallado en una pieza de cerámica desenterrada en las ruinas de la Cultura Xiajiatian, en la ciudad de Chifeng, anunció el experto Lian Jilin, ...
¿Los australopitecos fabricaron las primeras herramientas?
La clave del éxito evolutivo reside en la capacidad de fabricar utensilios. Nuevos hallazgos apuntan a que sus inventores fueron homínidos más primitivos que Homo Sapiens
...
---
Pileta de Prehistoria:

Une petite Vénus préhistorique découverte en Moravie-Silésie
4,000-yr-old characters found on pottery piece

- Xinhua
Archaeologists have found 4,000-year-old characters, even older than the oracle bones scripts, in north China's Inner Mongolia Autonomous Region.
Ink marks, which were confirmed to be three or four characters, were found on a pottery piece unearthed at Gaojiataizi, the ruins of the Lower Xiajiadian Culture in the city of Chifeng, Lian Jilin, with the regional research institute of cultural heritage and archaeology, said Sunday...
Más sobre
Stone Age tools found under tree uprooted by storm in northern Switzerland

- The Archaeology News Network
A recent storm brought to light flint scrapers and arrowheads dating from the Palaeolithic era in a Schaffhausen forest. The flints examined by the Schaffhausen Archaeological Service were discovered in a forest [Credit: Township of Schaffhausen]The Stone Age tools were found by a jogger among the roots of a tree felled by strong winds a month ago and immediately reported his discovery to the Cantonal Archaeological...
Mungo Man: What to do next with Australia's oldest human remains?

- ABC News
First a skull, then a torso and eventually an entire skeleton emerged from the sands of south-west New South Wales.
When the bones of Australia's oldest and most complete human were unearthed in the 1970s it rewrote history.
Dubbed Mungo Man after the dried-up lake basin where he was found, the skeleton dates back about 42,000 years.
But his removal from his burial site to a Canberra university 43 years ago caused his traditional owners great angst.
He's now been returned to his country, but there's a fresh dilemma to be resolved: Should Mungo Man be interred forever or should his remains still be accessible to science? ...
Tracing the tangled tracks of humankind's evolutionary journey

| The Guardian
The path from ape to modern human is not a linear one. Hannah Devlin looks at what we know – and what might be next for our species
Let's go back to the beginning. When did we and our ape cousins part ways?
Scientists are still working on an exact date – or even a date to within a million years. Like many of the big questions in human evolution, the answer itself has evolved over the past few decades as new discoveries, techniques and technology have provided fresh insights...
Más noticias
/ More news