2/3.

The figurine 12in (30cm) long, 2in (5cm) wide and carved from bone
Siberian Nikolay Tarasov, 53, wants no compensation for the find that local archaeologists have hailed as being 'unique and amazing'
Figurine has almond-shaped eyes, large mouth and an angry expression
Curators say the 12in-high statuette was carved in horn that later fossilised
The area around Tisul is known to have been inhabited in ancient times
A Russian fisherman who expected nothing more than a haul of tench and carp ended up catching a 4,000-year-old pagan god statue from the bottom of a riverbed. Local archaeologists have hailed Siberian Nikolay Tarasov's finding as 'unique and amazing' as well as 'probably worth its weight in gold'. Mr Tarasov was fishing on a day off from his driving job in the village of Tisul in southern Russia.
... 'I took it to a local museum. I needed to sit down when the experts told me that this object was carved at the very beginning of the Bronze Age. 'On the reverse side on the head the carver etched plaited hair. Below the plait there are lines looking like fish scales. The people I showed it to quite literally jumped for joy. [...]
dailymail.co.uk
Actualización 30-05-14
:
Un siberiano pesca 'sin querer' a un dios pagano de 4.000 años de antigüedad – RT
Un habitante de un pueblo de Siberia que salió a pescar halló en su red una pequeña figura que resultó ser nada menos que la estatua de un dios pagano de 4.000 años de antigüedad.
Nikolái Tarásov, un hombre de 53 años, encontró la estatuilla mientras pescaba en un río de Tisul, una localidad de la región rusa de Kémerovo. El pequeño objeto, aproximadamente del tamaño de un lápiz, se enredó en su red. Tarásov pensó que no era más que una piedra, pero al observarla de cerca se dio cuenta de que tenía rostro. "Me detuve y lo lavé en el río. Luego me di cuenta de que no era una piedra con una forma rara, tal y como pensé en un principio, sino una estatuilla", explicó el hombre, según cita el diario 'The Siberian Times'.
Tarásov decidió llevar la figura al museo de historia de Tisul. Cuando los expertos vieron el hallazgo quedaron sorprendidos. En su opinión, la figurita, tallada en cuerno y con cara de pocos amigos, data de la Edad de Bronce y podría haber pertenecido a las culturas Okunev o Samus, que habitaron en la primera mitad del segundo milenio antes de Cristo en el sur de Siberia.
"Probablemente se trata de la representación de un dios pagano", indicó la directora del museo, Marina Bánschikova. Aunque la escultura probablemente vale su peso en oro, o más, Tarásov la ha donado al museo. "¿Venderla y ganar dinero? ¿De qué hablan?" dijo el siberiano. "La gente debería ver y conocer la historia de su región", agregó.
Actualización:
Pagan god 'caught' in river by fisherman confirmed as being up to 4,200 years old and 'unique'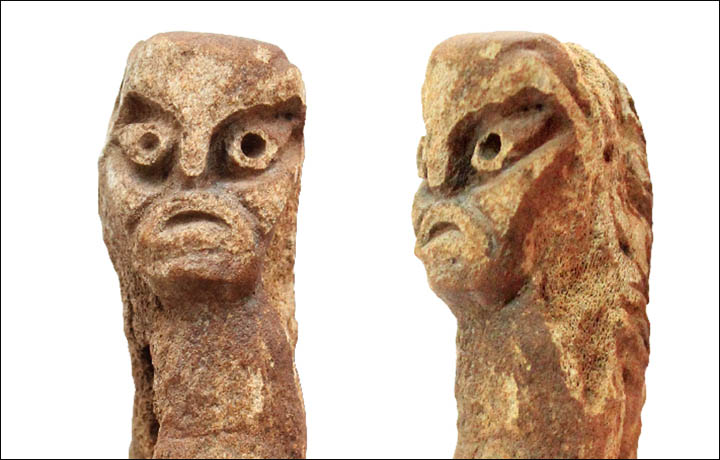 1/9. Picture: Pavel German & Vladimir Bobrov
Likely from the Okunev culture, might this mysterious ancient figurine with the angry face be a children's 'rattle', to ward off evil spirits?
The 'very distinctive expression of ferocity and rage' never seen before among ancient Siberian statuettes, say experts
.
Fisherman Nikolay Tarasov, 55, made the remarkable Bronze Age 'catch' when he dipped his net in the Dudet River near his home in Tisul, Kemerovo region, on a fishing expedition for tench and carp.
Instead of a fish, he netted a strangely shaped stone - a fossilised figurine - the catch of a lifetime. 'I was about to throw it back in the water - but at the last second I looked at it more closely,' he said.
'And I saw a face. I stopped and washed the thing in the river - and realised it wasn't a stone of an unusual shape, as I thought earlier - but a statuette.'
It has almond shaped eyes, a large mouth with full lips, and a ferocious facial expression...