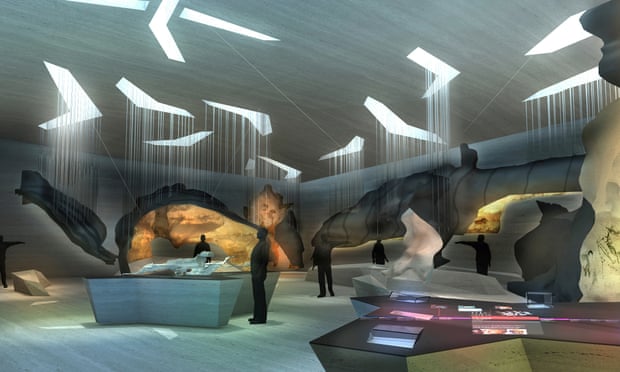 An exhibition space in Lascaux 4. Photograph: © Casson Mann
£48m recreation of French caves will let visitors experience magic of the 'prehistoric Sistine chapel' for first time in decades
... Today, Lascaux is closed to the public and has been for more than 50 years, after it was discovered visitors were unwittingly destroying the Unesco world heritage site simply by breathing in the caves. But next week, French president François Hollande is expected to open a meticulous €57m (£48m) replica of the grotto that attempts to recreate the magic and detail of the original.
Germinal Peiro, the local MP, said it was the first time such an ambitious project had been attempted. "Lascaux is
chez nous
, but it doesn't belong to us and we have always wanted to share these spectacular paintings with the world. This is the first copy of a grotto of this size in the world and it is a work of art in itself," Peiro told the
Observer
during a pre-opening tour of the project, known as
Lascaux-4
.
Stepping into the replica grotto, built 800 metres down the hill from the original with the same sombre, humid atmosphere, visitors are greeted with paintings of herds of animals, overlaid on earlier older paintings or etched into stone, that have taken a dedicated team of modellers, sculptors and artists three years to reproduce, as near to the Cro-Magnon original as possible. [...]
The Guardian