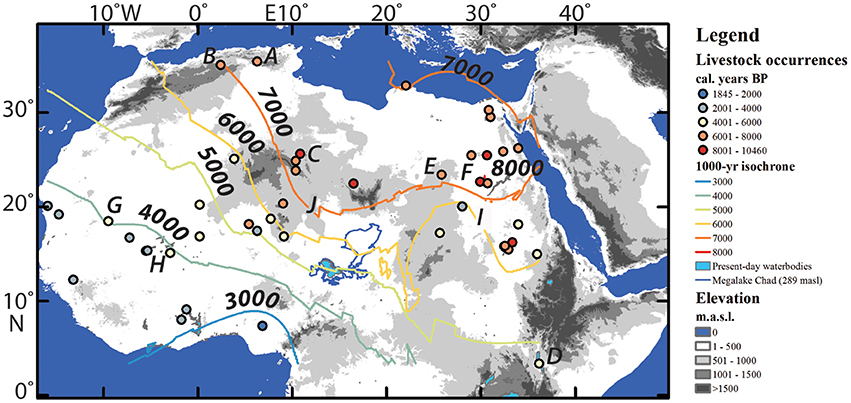 Figure 4. Locations of early occurrences of domesticated livestock in Africa....
SERVIMEDIA. El ser humano pudo haber desempeñado un papel activo en la desertificación del Sáhara, que pasó de un exuberante paisaje verde hace 10.000 años a tener ahora condiciones áridas, debido a que comunidades pastorales se expandieron desde el río Nilo hacia el oeste del continente africano.
La desertificación del Sáhara ha sido durante mucho tiempo un objetivo para los científicos que tratan de entender el clima y los puntos de inflexión ecológicos en esas zonas del planeta. Un nuevo estudio publicado en la
revista Frontiers in Earth Science
por el arqueólogo David Wright, de la Universidad Nacional de Seúl (Corea del Sur)
, desafía la idea de que variaciones en la órbita de la Tierra o cambios naturales en la vegetación desencadenaron la aridez de esa región.
"En el este de Asia hay largas teorías establecidas de cómo las poblaciones neolíticas cambiaron el paisaje tan profundamente que los monzones dejaron de penetrar tierra adentro", explcia Wright, quien extrapola este escenario al Sáhara.
Para probar su hipótesis, Wright ha revisado evidencias arqueológicas que documentaban las primeras apariencias del pastoreo en toda la región del Sahara y las ha comparado con registros que muestran la extensión de la vegetación de matorral, un indicador de un cambio ecológico hacia condiciones desérticas. [...]
RTVE.es
/
Link 2
Referencia bibliográfica:
David K. Wright.
Humans as Agents in the Termination of the African Humid Period
.
Frontiers in Earth Science
(2017). DOI:
10.3389/feart.2017.00004
.
Entrada relacionada
Did Humans Create the Sahara Desert?

– Frontiers Blog
New research challenges the idea that changes in the Earth's orbit triggered Sahara desertification.
The Sahara today forms one of the largest and driest expanses of land on Earth. Yet between 5,000 and 10,000 years ago, a period of time commonly referred to as the 'African Humid Period', both the climate and ecosystem of the Sahara were dramatically different. Instead of an arid desert landscape, the Sahara was characterized by lush and diverse vegetation, a consequence of monsoons and increased rainfall over the northern Africa landmass...