projet-lascaux.com
09/12/16. Francia inaugurará el sábado una nueva réplica de la célebre cueva de Lascaux, hogar de extraordinarias pinturas prehistóricas de 18.000 años, descubiertas hace más de 75 años por cuatro adolescentes.
"¡Es una maravilla! Tuve la impresión de estar dentro de la verdadera cueva", afirmó entusiasta Simon Coencas, último superviviente de los cuatro muchachos que descubrieron esta famosa caverna en el suroeste de Francia el 12 de septiembre de 1940, en plena ocupación nazi.
Coencas, de 89 años, estará el sábado junto al presidente de Francia, François Hollande, en la ceremonia de inauguración oficial de "Lascaux 4", que abrirá al público el 15 de diciembre...
... En la nueva réplica, que reproduce integralmente las pinturas de la cueva de Lascaux a escala real, los visitantes podrán ver copias exactas de todos dibujos realizados hace 18.000 años y que desde 1979 hacen parte de la lista de Patrimonio mundial de la Unesco.
El objetivo de este nuevo proyecto científico, artístico y turístico, realizado en un espacio de 8.500 m2, es hacer sentir a los visitantes las "mismas emociones" que tuvieron los cuatro adolescentes que descubrieron por casualidad el excepcional santuario prehistórico.[...]
noticias.terra.com.ar
Jean-Pierre Chadelle, archéologue au Conseil départemental de la Dordogne a expliqué vendredi sur Europe 1 pourquoi la nouvelle réplique de Lascaux était nécessaire...
Vídeos (3)
:
1. Visitez la réplique intégrale de la grotte de Lascaux en 360° - franceinfo | 2. "Lascaux 4" pour retrouver les émotions de la grotte originale - AFP | 3. A la découverte de Lascaux IV - La Croix
Videos añadidos a
PaleoVídeos
> L.R.2.11 nº 37, 38 y 39.
Actualización:
France opens new Lascaux prehistoric art cave replica
AFP. A new replica of the stunning Lascaux cave paintings was unveiled Saturday in the Dordogne region of southwest France, more than seven decades after the prehistoric art was first discovered.
"This is more than a copy, it's a work of art!" said French President Francois Hollande as he visited the centre in Montignac, the village at the foot of the hills where the original cave complex is located.
The new project dubbed "Lascaux 4", which opens to the public on Thursday, aims to recreate the sensations experienced by the four teenage boys who found the cave on September 12, 1940.
The last of the boys still alive is Simon Coencas, now 89, who was a special guest at Saturday's event.
With World War II raging and the Nazis already in Paris, a friend of Coencas had enlisted him and the other boys to explore a hole in the ground in the hills above their village that his dog had found a few days earlier...
Actualización:
Yves Coppens : «Je suis là comme devant des Rembrandt» - 10/12/2016 - ladepeche.fr
Actualización:
Jean Clottes : «Lascaux, ça fait un choc !» - 10/12/2016 - ladepeche.fr
Actualización:
Vídeos (2)
.
1. Cueva de Lascaux, Francia inuagura réplica DW (Español)- 2. Francia inaugura una réplica de las pinturas ruprestres de la gruta de Lascaux - EFE
Ver en
PaleoVídeos
> L.R.2.11 nº 44 y 45.
Actualización:
Vídeos.
La grotte de Lascaux AFP (YouTube)
Vídeo añadido a
PaleoVídeos
> L.R.2.11 nº 48.
Actualización:
Museos en el siglo XXI: el mito de la caverna | EL PAÍS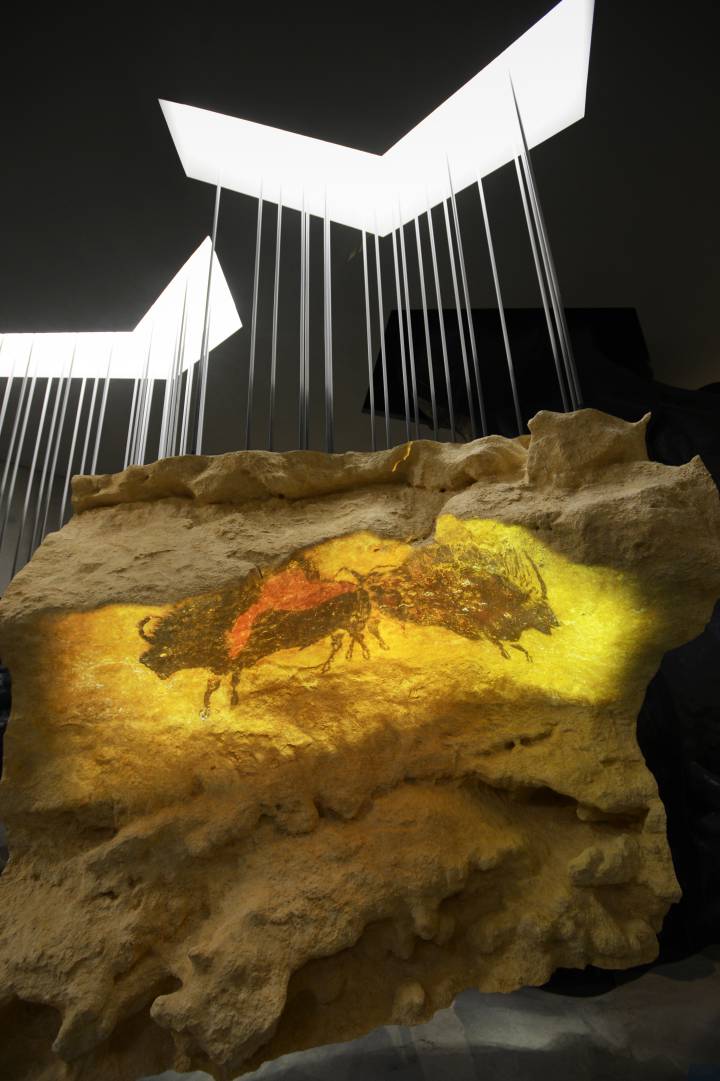 La réplica de las cuevas de Lascaux plantea el debate entre lo verdadero y lo falso así como sobre la definición de museo...